Flights to New York at the best prices in the marked. Welcome to the big apple.
Lowest AirFares Guarantee
New York
New York is the city that never sleeps and peculiar enough also the city of dreams. If you haven't already been there, you need to visit this spectacular place at least once in your lifetime. In the bottom of this page we disclose a few hidden gems you will want to see.
New York City comprises 5 boroughs sitting where the Hudson River meets the Atlantic Ocean. A borough is a sort of a small city within the city. New York is a massive metropolis, and therefore the boroughs help structure it all. In the middle lays Manhattan, a densely populated borough that's one of the world's major commercial, financial and cultural centres.
The other four boroughs are The Bronx, Queens, Brooklyn and Staten Island, all of which are worth a visit. For live music, eclectic eats and immigrant history you need to visit Brooklyn, but for sports and food it's all about Queens. Every borough has its own style and rhythm, but everything is also New York. Wherever you choose to go, you will feel the vibe of the big apple all around.
–Traveller tip: Flights to New York City are at their cheapest between March and June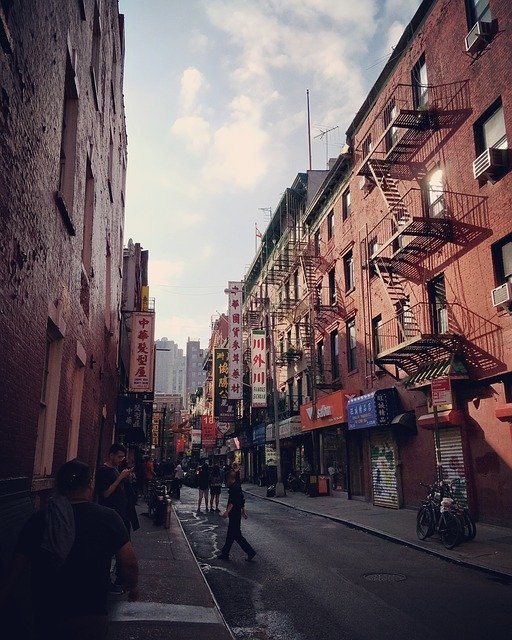 Explore our best deals on plane tickets
Shopping in New York
If shopping is what you're after, New York will deliver. The most famous shopping opportunities in New York is without a doubt Fifth Avenue and Macy's. Fifth Avenue is a major thoroughfare in Manhattan. It reaches from Washington Square Park in the north, to 143rd Street in Harlem in the west. Fifth Avenue is actually considered one of the most expensive and elegant streets in the entire world. For most of us, Fifth Avenue is somewhere to take a look, before doing the actual shopping somewhere else. Check out Macys, Bloomingdales and Lord and Taylor for some of the best deals you'll ever get, even on the luxury brands. If you stroll down to Broadway at the lower Manhattan end, you are bound to discover some fantastic stores there as well.
Food
This city has some absolute "must haves" when it comes to street food. Pastrami is probably as "New York" as it gets. A pastrami sandwich, complete with a pile of hand-carved beef pastrami, yellow mustard, and freshly baked rye bread, is a must eat. Even if you only eat this one time in your life, just give it a go. The pastrami sandwich perfect representation of the flavour of New York. If you don't eat meat, there is another way to taste the New York flavour. Try some swanky vegan comfort food at Modern Love Brooklyn. They serve up a range of sumptuous dishes such as waffles with seitan chicken and ice-cream, pies and puddings and some of the best-looking vegan burgers you have ever seen. You don't have to be vegan to try this place, because the taste is marvellous. Take it from a meat-eater.
Hidden gems in NYC that will have you in awe
We'll start with The Old City Hall Subway Stop. This was once an energetic station but was shut down in 1945 mostly due to the low amount of traffic it received. Still, it's a beautiful place designed by the same architects that designed the Cathedral of St. John the Devine. During the 'City Beautiful' movement at the turn of the last century, New York City's first subway station opened to the public. Although this beautiful station is not open to the public, guided tours are provided periodically. -Or use our little secret and catch a sneak peek by staying on the 6 train after its final stop. Stop number two is a hidden Tropical Rainforest From Central Park to the New York Botanical Garden and quite a few small public parks in between, it's easy to find a patch of green when you're tired of the concrete jungle. Finding somewhere private is a lot more difficult. Still, hidden inside a Midtown Manhattan office block is a tiny tropical rainforest Large glass windows act like a greenhouse, working with a system that creates steam condensation from rainwater to create a humid mini ecosystem. This keeps the tropical plants lush and green, even though none of the plants are naturally geographically related to this part of the world.
Fly with us to New York
If you are considering a trip to New York, you should try searching in the trip finder above. The algorithm we use scans over 8 million hotel rooms worldwide and more than 800 airlines, to find the absolute best deals for you. We love to travel, and that's where this all started. Finding the best deals on flights and hotels used to be a painstaking agony of searching over and over again, scrolling thru as many sites as possible to find the best deals. At some point we just had enough. The system we use finds all the deals for you, and you can filter it on price, travel time, ratings and a number of other factors. If what you are looking for exists, we will find it – and have a great deal for it. Have a nice trip to New York City, you will not regret going.

It's time to search and find the best deals on flights to New York
Stay informed by joining our newsletter!
We'll send you a monthly recap of our most recent reviews. We respect your privacy and take protecting it seriously.